It's December and thus once again it is time for the Year in Review. I did this in 2021 as part of Judith Peters' annual review blog. This year (again) a lot happened, privately and in business. My personal highlight was the trip to Canada.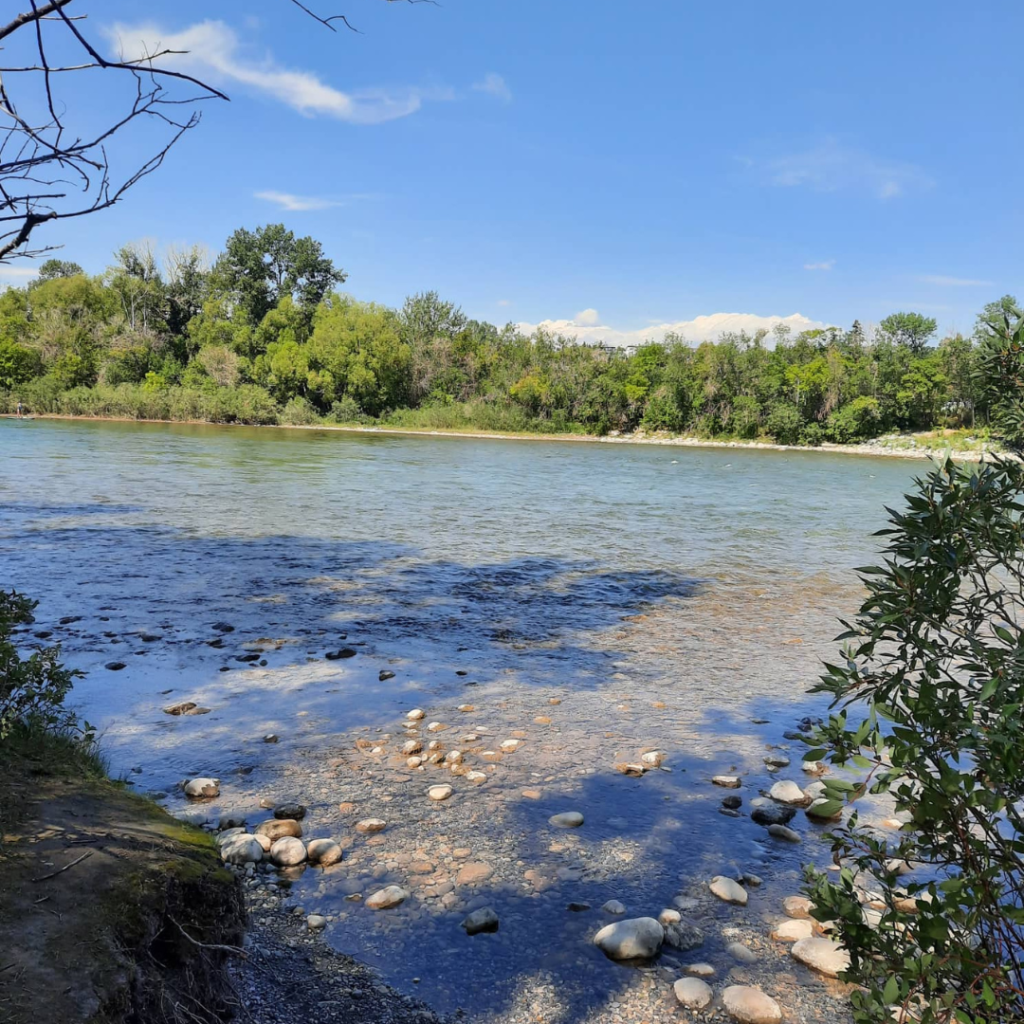 My review of my own goals for 2022
My business goals for 2022 were for the business to be self-sustaining. I achieved that, even making a small profit. Unfortunately, I did not achieve the bonus goal of a certain minimum turnover per month.
On the private side, I fulfilled a dream and spent a week in Canada.
And my private network here on this site has grown considerably. For the business network, online is somehow easier.
My review of the year 2022
Trip to Canada
Preparations and flight
I had already thought about the trip in 2021, planned it at the beginning of 2022, and in August it was time… I thought. Then I got an email: one of the flights was cancelled without replacement, and unfortunately, they couldn't tell me which one. Thank you, AirCanada.
Hotline: "Sorry, too many people are calling, and we don't have a queue." *click*
After ages of back and forth with Lufthansa, through whom I had originally booked, I found out that no flight had been cancelled after all, and that all the flights were still planned.
However, they sent an email a couple of days later saying that the flight inside Canada had been cancelled, and I could no longer fly from Toronto to Calgary, and there was no replacement flight available. 
After more lengthy stays in the Lufthansa phone queue, I finally was told that I could fly standby via Frankfurt directly to Calgary. You would think that would take care of everything. Far from it!
There was another hiccup at check-in due to the rebooking and another hour on a Lufthansa hotline to solve that. 
On the day of the flight, I sat around the Munich airport for a few hours, expecting chaos, and of course, none appeared! The security check went quickly and smoothly. Better that than hectic, I guess. However, when we arrived in Frankfurt, again it was exciting. The security check line was very long, so long, in fact, that they had an extra employee for the next flight in order to give those passengers priority assistance.
At the gate, the plane awaited, but nothing happened. The loudspeaker announced that the crew still needed to clean the plane. During the hour-long cleanup, another passenger and I fantasized about what had happened to create such a mess: the passengers on the last flight celebrated a party, and the last few partygoers had to be dragged off the plane. Then they needed to remove all the nasty garbage and bottles, the remnants of this phantasmic event. 
Finally, they let us in. I saw no sign of the party. The flight was relaxed, and we arrived in Calgary with only half an hour's delay.
Arrival in Calgary
I have never met such nice border officials as I did there. They were very polite, not a bit stressed, even though there was a lot going on. A cold shower came with the search for a cab. You may not believe it, but I genuinely got the feeling no one wanted to take me to the hotel. Only the sixth cab driver at the fifth cab stand agreed to take me to the hotel at the airport.
The hotel staff were very pleasant. There was even a hot tub on the roof, but after the long journey I just wanted to eat and go to bed. I highly recommend the restaurant at the Hotel Clique.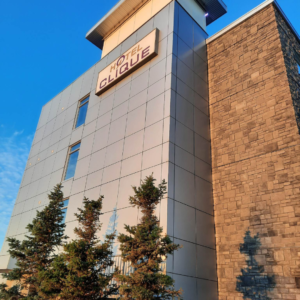 Meeting with friends
The next day, a very nice cab driver took me from the hotel into the city itself, to the hotel where I was to stay for the week. I was there early and only wanted to tell them I was already there and would move into the room later that night. No problem, they told me.
And off I went to meet my friends. I had known some of them for ages, but only online. My gut feeling works so well that there were no ugly surprises about them. We just had a wonderful afternoon and evening, playing games together and eating Pizza Hawaii for dinner. It felt like I was transported back to my university days, except that all the people spoke English. But other than that, it felt exactly the same.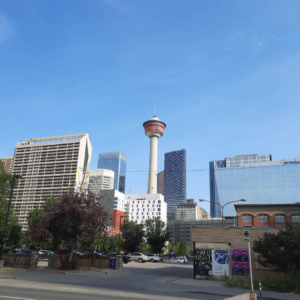 Hotel – or – I have a new name
In the evening, the check-in went smoothly, and I moved into my room. Too tired to do anything else than sleep, I did not bother to check the wi-fi.
In the morning was a surprise: the free wi-fi did not work because my name did not match the room number. Reception told me I should call IT. No sooner said than done. IT solves the problem but says that the room number and my name really doesn't fit, and they have to use a workaround. It works, but the question leaves me unsettled. Finally, I find out at the reception that they checked me in as Sarah Cooper, even though they had my ID in their hands! My address was correct, funnily enough, but my name was not. Unfortunately, they didn't want to give the bill to a Sarah Cooper later. Oh well. Too bad.
Because of its location, the hotel is a good starting point for walks into the city center… or to the world's largest role-playing game store. But also, the view at night was amazing. Ah, jet lag.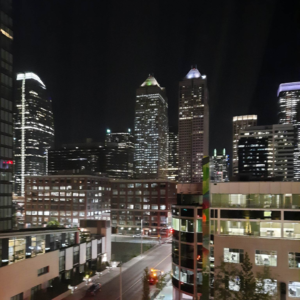 Even more friends
Since, for some reason, Calgary is home to an incredible number of role-players, I had two "dates" with friends there. With the second group we went to the various parks that Calgary and the surrounding area have to offer and… wow! 
See for yourself.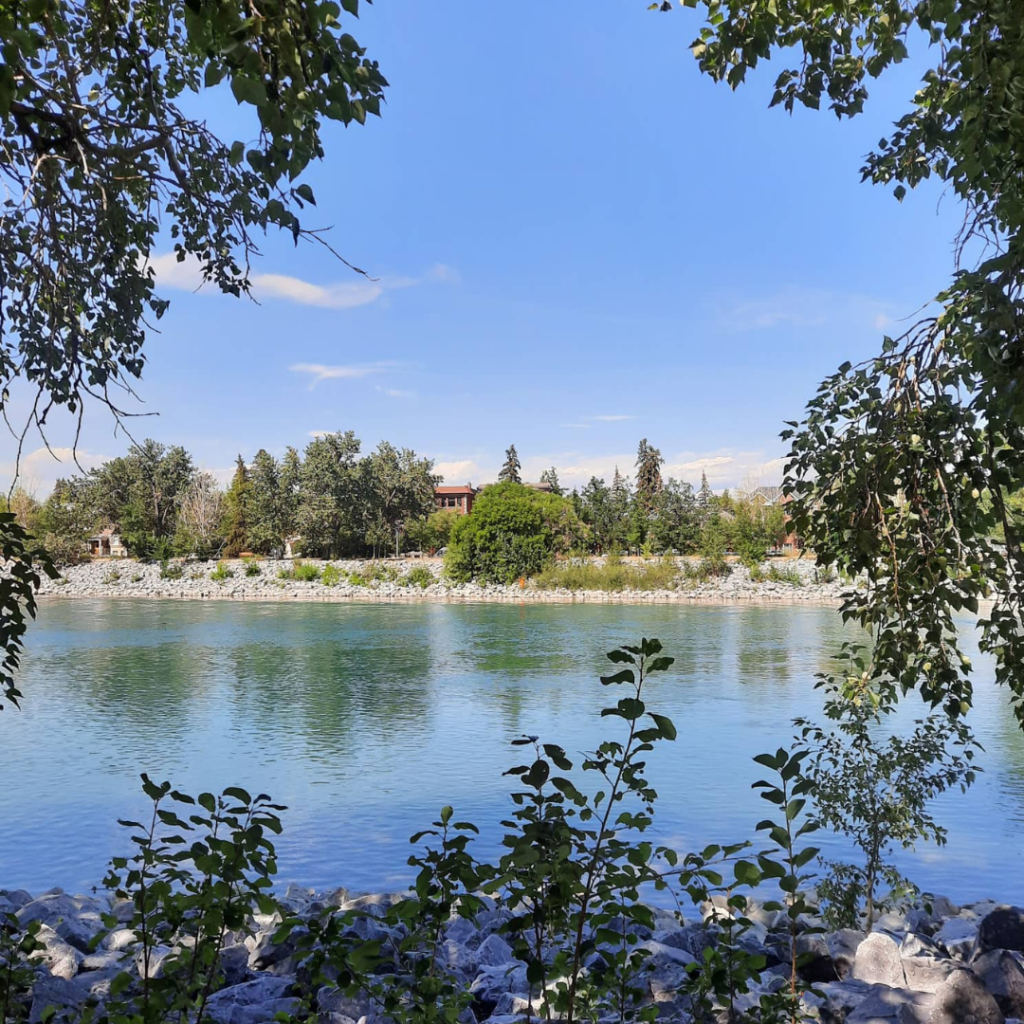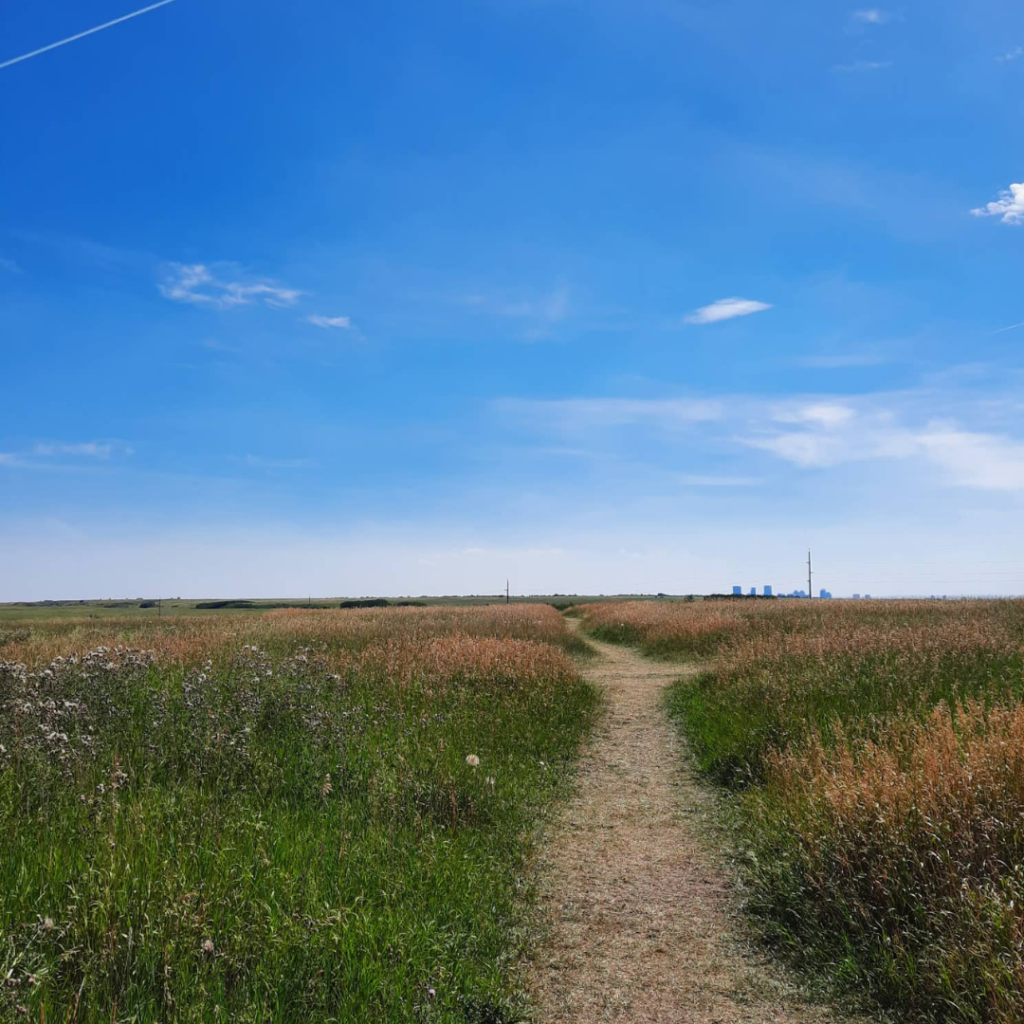 Workshop at the world's largest roleplaying game store in Calgary
One of my goals was also to hold a writing workshop in Calgary, where I'd been before. The whole event was arranged before the trip, the team at SentryBox was very friendly, uncomplicated and accommodating.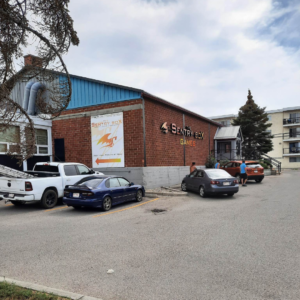 There were one or two small confusions, because the event was not signposted on the bulletin board and therefore not everyone knew about it. That was cleared up quickly. Since the gallery was already crowded with tabletop players that evening, an area in the book corner was cleared for me without further ado. Of course, there were customers running around, but that didn't bother me at all.
The participants had a lot of fun, even when it wasn't their "turn" to write. Unfortunately, at the end I had to answer the question of whether this could take place regularly with a "no." I am simply too seldom in Calgary. But it will certainly not be the last time!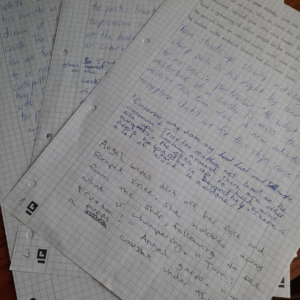 New Website
I built my old website myself in 2019. This year, I needed to upgrade to a new one, including a new color scheme. From pastel green and white to these much stronger autumn colors. This time, it was not 100% self-made, but the framework was set up by technology expert Daniela. For the colors and the errors, however, I am responsible.
Mishaps and mishaps
Anyone who has ever moved a website knows for sure that there is a lot to consider and a lot that can go wrong. As the devil would have it, I forgot a small but very important step and promptly locked myself out of my website. This was fixed relatively, quickly thanks to the help of my tech fairy, but it was still quite a scare.
By the way, one of the mistakes I am not responsible for is the name of the website. "Yoga Studio" is the template, and this thing swore I wasn't allowed to change the name. If anyone knows where in the depth of Astra and the Yoga Studio template is hiding a feature that lets us change this, get in touch. I would like this, instead of saying "Yoga Studio," to say "Ideenbrunnen" (Fountain of Ideas).
Own forum…
Just in time for the start of the first round of Schreibwelten (together with the Writing Worlds), I wanted to start a forum. The handling of Google Docs is simply unbelievably confusing above a certain number of groups.
Thanks to Daniela, setting up the forum was very easy and problem-free. I tinkered a bit with the design, created the first test users and created groups for individual access. Everything seemed to work.
…and what went wrong
Unfortunately, many of the participants did not make it to the forum for reasons unknown. The rest struggled with annoying, unpredictable and untraceable errors (my test accounts didn't have these problems). So you could say: classic flop. I'll have to get back to the exact error analysis. I don't want to give up the plan completely.
New employees
When you have only a little time, you have to figure out how to get all the work done. Since this year there is a virtual assistant who supports me, mainly with Pinterest, but also with troubleshooting on the homepage, and an American writer and journalist who is responsible for making the English part of the website beautiful. Sometimes he also writes something himself, like the English article on writer's block.
My workshops and other projects
Writing Worlds
Two to three times a year the Writing Worlds open their doors. This is two weeks of writing a story together in a small group, or one in the intensive version. I set the space, ask questions and start the respective stories depending on the wishes of the participants. 
Small challenges are interspersed here and there, but this is about teamwork, getting creative, having fun, and growing from it if you let yourself get involved. Writing friendships develop and some participants want to continue their story afterwards. This is also possible, and I'm happy to provide the space for it in Worlds Behind the Mirror.
Since the concept of 'live' works just as well (this is what we tested in Calgary), just not for a week, but for 2-3 hours at a time, there will also be a variant via Zoom next year. I have even bigger plans with it. 
Desired Customer Workshop
For the entrepreneurs I have the desired customer workshop. In a small group, participants slip into the head of the ideal customer and take on the role of one of five emotions. These emotions can and should interact with each other and guide the person through one or more scenes of their everyday life. Sounds crazy? It's definitely very funny, but not only that. Participants get unique insights into what makes the ideal customer tick. A-ha! experiences guaranteed.
Calendar project with Catalyst Game Labs
And because I can't seem to go a year without a calendar, I had to have one again this year. This time it was a Shadowrun calendar from Catalyst Game Labs. This was an American contract, negotiated with the Shadowrun Line Developer, with teamwork done over three countries (Canada, Germany, and the USA). Sixteen so-called plot hooks were written by three of us, and, as a bonus, some were connected by an overarching plot. Unfortunately, that fell out during printing, but it's still in the drawer. If you get the calendar (warning: international shipping costs are astronomical) and want to know what else we've spun together, feel free to get in touch.
My year 2022 in numbers
    Instagram followers: 502
    Facebook fans: 257
    published blog articles: 19
    completed projects: 3
    kilometers ridden by bike: 800
    workshops held: 10
My goals for 2023
For business, I have a few specific goals for 2023:
    Make Writing Worlds bigger
    Successfully stage a live event in June
    A blogparade on 13.01.23 on the topic "Let your dreams become true".
    Become more active in brainstorming wild ideas with/for others
And privately:
    Enrollment in school of the little child (hui, also already so big)
    visiting friends all over the world

My motto for 2023 would be – loosely based on "A Good Plan" – pretty sure Two-thousand-twenty-free. But I also like to use "New beginning".